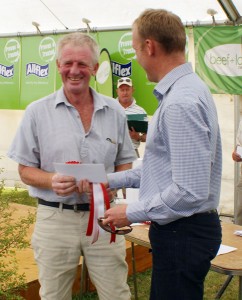 Hatuma Dicalcic Phosphate was proud to be one of the sponsors of the recent Wairarapa Gate to Plate event at the Masterton A&P Show.
The Gate-to-Plate event is a competition where Wairarapa farmers submit one lamb each to be judged – first on the hoof, then on the hook, and finally on the plate.
We're proud to say that many competitors were Hatuma Dicalcic Phosphate farmers, and the 'On The Hook' category, which was sponsored by Hatuma went to valued Hatuma Dicalcic Phosphate customer, Kim Jury. He took out the award with his Southdown Coopworth Cross, so we would like to congratulate Kim.
Event organisers were thrilled with the number of entries for the event which is only in its second year, and A&P show foodies delighted in the lamb related cooking demonstrations by award winning chefs.