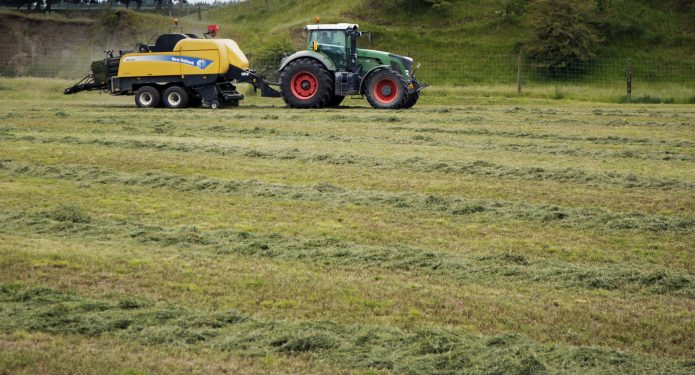 Switching to Hatuma Dicalcic Phosphate® a quarter of a century ago is proving that early birds really do get more worms for Central North Island deer farmer, Murray Matuschka.
Murray owns Kitenui Deer Farm, at Wairakei near Taupo where he has 600 deer on his 187 hectare property. He also operates a safari park, which is home to the North Island's only Himalayan Tahr herd, as well as zebra and buffalo. He started applying Hatuma Dicalcic Phosphate® 25 years ago and since the first application Murray has seen considerable improvements to soil pH, a reduction in brown top, better pasture palatability, improved stock health and more earthworms and clover.
Controlling Brown Top
"There's no doubt about it, Hatuma Dicalcic Phosphate makes the brown top more palatable.It's amazing how the animals hoe into it, and the clover growth has been phenomenal." Murray applies Hatuma Dicalcic Phosphate® # 8/S at 400 kilograms per hectare.
Better Regrowth
Regular soil tests on the property are showing pH levels have increased year upon year, enabling the pasture to lift more rapidly after droughts and challenging weather conditions. "Our pH is right up and Hatuma Dicalcic Phosphate appears to be the secret ingredient. Our regrowth is wonderful and we know the soil is very healthy because we have a huge number of earthworms," says Murray. "We are able to produce both quantity and quality every year. The pasture is well fed which in turn feeds our animals well."
Improved Stock Health
They often host tourists from around the world at Kitenui to see the wide range of exotic animals and Murray also hosts a lot of corporate groups. "The first thing tourists notice is how green the grass is and then how healthy the animals are."
"We have seen a big improvement in stock health with Hatuma Dicalcic Phosphate. We don't get animals scouring like we did before – they are a lot cleaner and healthier." Murray says he also doesn't have to use any copper supplements, which saves him time and money. "We used to use copper all the time but now we don't and we haven't noticed any difference."
Focus on Sustainability
Murray is focused on farming sustainably. He has planted a lot of trees on his property and is hugely committed to protecting the environment.
"We are attracted to Hatuma Dicalcic Phosphate because it is non-water soluble so there is little chance of runoff, which is a big issue within our area. We have a commitment to farming sustainably and protecting the property for future generations."
Murray's grandson Gary Mansfield is heavily involved in the day-to-day running of the operation and is also focused on future proofing the property.
"The farm is always responding well. We have never re-sown any grass in the 46 years we have been on the property. This is testament to good fertiliser practice, considering we have been able to afford to put it on every year and we believe Hatuma has helped us to consistently sustain healthy soils and pasture."
Have you had the Hatuma Conversation yet?
Available nationwide. To find out how Hatuma Dicalcic Phosphate® can help benefit profitability and palatability on your farm, call 0800 80 65 65 or email