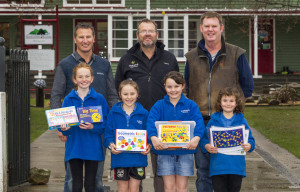 Canterbury's rural primary schools have been given a welcome boost to resources, thanks to the support of local farmers and fertiliser company, Hatuma Dicalcic Phosphate Ltd.
Farmers throughout New Zealand are invited to support Hatuma's 'Growing Minds' fund by nominating a school and in return Hatuma donates money from the fund to that school. It's business as usual for the farmers but gives rural schools some extra cash for resources.
Over the last six years Hatuma Dicalcic Phosphate has donated over $30,000 to New Zealand rural schools through the programme.
Mid Canterbury School, Glentunnel School attracted huge support from farmers who chose to nominate the school for the Hatuma Growing Minds Fund.
Glentunnel School Principal, Chris Bascand says the 112 children school relies on the support of the community.
"Rural schools are an integral part of the community and we work on our relationships with farmers and local businesses. Every little bit helps and we appreciate the support of Hatuma Dicalcic Phosphate."
The extra money has enabled the school to purchase more sports gear and maths equipment.
"The support comes in the way of a cash donation which really helps us. As a small school we still have a lot of the same overheads as a bigger school but we generally have less money to operate. So the fact our local farmers are getting in behind us is the type of boost we need."
Mr Bascand has helped turn Glentunnel school around in his ten years as school principal, with the roll increasing from 32 to 112.
"When I arrived I was the only teacher at the school and now we have 8 teachers, so its grown considerably."
Hatuma Dicalcic Phosphate farmer Hamish Thorne has daughter Alice at Glentunnel school and says he tries his best to support the school in every way he can and the Hatuma Growing Minds Fund was another way he could get behind the school.
"It's vital that we support our local school. They are the centre of any rural community. Before Chris Bascand arrived, our school was in a sad state but he has done wonders for it and really got the community on board, which has been vital."
Mr Bascand says rural schools are challenged in many ways by isolation, more extremes in weather and often changing communities and every little bit helps.
"The school relies on community volunteering and donations which are the schools life support and the funds open up more opportunity.
"We take our hats off to Hatuma for their Growing Minds Fund because it is contributing hugely to rural communities."
Catering lunches and morning tea at the local sale yards is the main way Glentunnel School raises money for extra resources.
Hatuma Dicalcic Phospahte Field Representative, Nigel Wilson who has three daughters at Glentunnel School says the feedback about the initiative has been very positive.
"Rural primary schools are the centre of our country communities and farmers have enjoyed providing support. The Hatuma Growing Minds fund has been set up in a way that farmers can carry on business as usual and their local school benefits. So it's a win for everyone."
Mr Wilson says the Hatuma Growing Minds fund also gives farmers who don't have children at the school an opportunity to support their rural school.
"With traditional funding for rural schools lessening, we feel we have a role to play as a rural business, focused on our community. We want to show our support for the next generation of rural New Zealanders. It costs our customers nothing extra and it's Hatuma's way of giving back to the community."